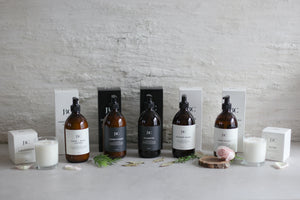 Welcome to Janey Butler Collections
Janey is the Founder & Design Director of the team at Janey Butler Interiors HQ. Janey's passion is designing and creating beautiful homes and interiors.
With her wealth of experience in dealing with luxury, high end residential projects and fulfilling the expectations and exacting standards of discerning clientele, her signature style has constantly evolved as she has travelled around Europe and the rest of the world sourcing amazing artisans, and craftsmen and women.
Her travels are always an opportunity to explore beautiful cities, architecture and design and so to be constantly inspired, which is then reflected in her unique design concepts.  Her approach to design is always respectful to the existing character and surroundings of the project, whilst creating something inspired and unique. This love of natural surroundings means Janey is often found exploring the countryside and in her beloved garden.  Nature provides Janey with endless influence and inspiration which is what binds all her designs together, using natural colours, textures and materials are evident in all her interiors schemes.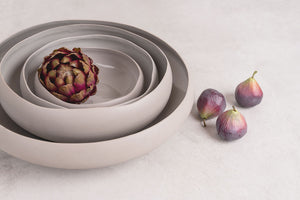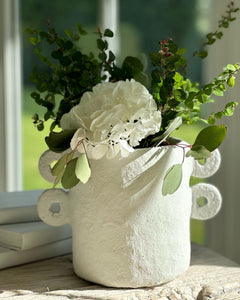 Textured Beauty
۵۵۵We Love our Textured Paper Mache pots, which are gorgeously textured and are perfect for adding natural style and design into your home.
Perfect for all year round styling, and wonderful with vibrant seasonal blooms.
A gorgeous light weight but stylish piece to add beauty and natural style to your home.۵۵۵